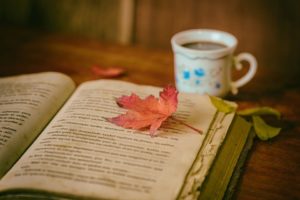 In a few days October will be upon us in all its splendor. October in the Pacific Northwest is a mystical month of auburn leaves, fog, and crisp morning air–the perfect atmosphere for reading. Imagine settling in to your favorite reading nook, sipping on a cup of pumpkin spice coffee, and getting lost in a book while the leaves fall around you.
But what to read, you ask? Not to worry, I've got you covered. Here's a roundup of what some Catholic book groups are reading next month, along with a few books by or about the saints of October.
Catholic Book Clubs
America Magazine's Catholic Book Club is reading Shusaku Endo's Silence, a powerful book soon to be released as a movie from director Martin Scorcese. From the publisher:
Seventeenth-century Japan: Two Portuguese Jesuit priests travel to a country hostile to their religion, where feudal lords force the faithful to publicly renounce their beliefs. Eventually captured and forced to watch their Japanese Christian brothers lay down their lives for their faith, the priests bear witness to unimaginable cruelties that test their own beliefs. Shusaku Endo is one of the most celebrated and well-known Japanese fiction writers of the twentieth century, and Silence is widely considered to be his great masterpiece.
The movie is scheduled for a December release, so you've still got plenty of time to read the book before seeing the movie.
Here at St. Peter Parish in Spokane, Washington, our book club is about to start reading The Light Between Two Oceans by M.L. Steadman. Called "a mesmerizing, beautifully written novel," it, too, is soon to be released as movie.
Also in October, The Faith and Fiction Book Group at St. Bartholomew Parish in Bethesda, Maryland, is reading Alice McDermott's Charming Billy:
Alice McDermott tells the story of Billy Lynch within the complex matrix of a tightly knit Irish American community, in a voice that is resonant and full of deep feeling. Charming Billy is a masterpiece about the unbreakable bonds of memory and desire.

Charming Billy is the winner of the 1998 National Book Award for Fiction.
Saints of October
October is a veritable cornucopia of the canonized. Here are a few of the more prominent feasts in October, along with some suggested books to better appreciate them:
St. Therese of Lisieux – October 1 – Story of a Soul: The Autobiography of of St. Therese of Lisieux – The Little Flower tells her own life story in this classic work.
St. Francis of Assisi – October 4 – Francis of Assisi–in His Own Words: The Essential Writings –  "Biographies of St. Francis will only take you so far. It's impossible to truly understand him without reading his writings. [Jon] Sweeney has compiled all of the ones that we are most certain come from Francis himself, including his first Rule of life, the Rule he wrote for the Third Order, letters to friends, letters to people in power, messages to all Franciscans, songs, praises, canticles, and his final spiritual Testament."
Our Lady of the Rosary – October 7 –The Rosary: A Path into Prayer by Elizabeth Kelly – The entire month of October is dedicated to the Rosary. Kelly's book is a a down-to-earth introduction or re-introduction to this beautiful prayer that includes personal stories of the rosary's influence on everyday people along with meditations for each mystery.
St. John XXIII – October 11 – Journal of a Soul: The Autobiography of Pope John XXIII – One of the most humbling and powerful spiritual books I have ever read.
St. Teresa of Avila – October 15 –The Interior Castle by Teresa of Avila – What could be more appropriate for the mystical month of October than a book on mysticism from a Doctor of the Church?
St. Ignatius of Antioch – October 17 – The Epistles of Ignatius, in Early Christian Writings: The Apostolic Fathers – Ignatius was Bishop of Antioch in the first century and was eventually sentenced to death for refusing to renounce the Christian faith. He wrote these seven letters on his way to Rome around the year 107, and they connect us with the early church in a very real way.
St. John Paul II – October 22 – Witness to Hope: The Biography of Pope John Paul II by George Weigel – This authorized biography of Pope John Paul II is a comprehensive and well written account of one of the most revered popes in Catholic history.
Have you read any of the books listed above? Do you belong to a parish reading group? Do you have a book recommendation for October? If so, please leave a comment and share your thoughts.