4:50 from Paddington by Agatha Christie
"Don't go," said Cedric. "Murder has made you practically one of the family."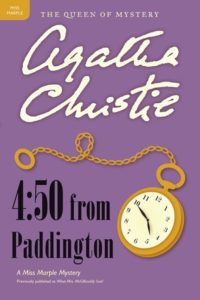 I haven't picked up an Agatha Christie book quite a while, but reading 4:50 from Paddington was like easing into a comfortable pair of slippers. It has all the elements I like in a mystery: a startling murder, multiple suspects with interesting back stories, a plot twist or two, and a creepy old English manor thrown in as a bonus. If you've enjoyed Agatha Christie before, you'll like what  you find here. If you've never read anything by the Queen of Mystery, then 4:50 from Paddington is as good an introduction as any of her books.
The American edition of the book was called What Mrs. McGillicuddy Saw, and boy did she get an eyeful. As she travels home on the 4:50 train a few days before Christmas, Mrs. McGillicuddy looks across to another train running parallel to hers and witnesses–or thinks she witnesses–a tall, dark man strangling a woman to death in one of the private cars. Mrs. McGillicuddy has trouble getting anyone to believe her until she tells her friend Miss Jane Marple. It's amateur detective Miss Marple who really sets things in motion, and soon all sorts of things begin to turn up: an ancient sarcophagus, a mystery spouse, and even some good old arsenic, that staple of cozy mysteries.
Christie's eighth Miss Marple novel is also filled with interesting side characters, from the crotchety Luther Crackenthorpe to the resourceful Miss Lucy Eyelsbarrow. 4:50 from Paddington is a model cozy mystery, and if the ending wasn't as clever as I had hoped, it was still vintage Agatha Christie.
I read this book for several of my reading challenges for 2017:
4:50 from Paddington by Agatha Christie
First edition London: Collins Crime Club, 1957
Kindle edition New York: William Morrow, 2004
Print length: 224 pages