The Best October Poetry, Books and Music
October is the best month of the year.  October brings golden leaves, baseball playoffs, high school football, and Halloween.  It's no wonder so many authors and musicians have written about this most evocative of months.  Consider this passage from Ray Bradbury's Something Wicked This Way Comes: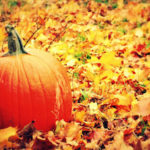 First of all, it was October, a rare month for boys.  Not that all months aren't rare.  But there be good and bad, as the pirates say.  Take September, a bad month: school begins.  Consider August, a good month: school hasn't begun yet.  July, well July's really fine: there's no chance in the world for school.  June, no doubting it, June's best of all, for the school doors spring wide and September's a billion years away.

But you take October, now.  School's been on a month and you're riding easier in the reins, jogging along.  You got time to think of the garbage you'll dump on Old Man Prickett's portch, or the hairy-ape costume you'll wear to the YMCA the last night of the month.  And if it's around October twentieth and everything smoky-smelling and the sky orange and ash gray at twilight, it seems Halloween will never come in a fall of broomsticks and a soft flap of bedsheets around corners.
Bradbury is the perfect author for October: from Something Wicked This Way Comes to The Halloween Tree to The October Country, Bradbury's stories evoke the month's crisp air and golden colors as the year begins to die.  Even the titles of his short stories echo the mysterious atmosphere of October: "The Coffin," "The Scythe," "There Will Come Soft Rains," "The Last Night of the World," "The Golden Apples of the Sun."
If you're looking for books to recommend to your students during the month of October, start with Ray Bradbury, but don't forget October Sky (Rocket Boys) by Homer Hickham and by October 1964 David Halberstam.
You can also add to the October atmosphere in your classroom by reading October poetry and playing October music:
October Poetry 
October Music: